Untitled typographic poster #1
RunwayML + Trendlist Typographic Posters 1, 2020
512 x 512px digital poster
Untitled typographic poster #2
RunwayML + Trendlist Typographic Posters 1, 2020
512 x 512px digital poster
Untitled typographic poster #3
RunwayML + Trendlist Typographic Posters 1, 2020
512 x 512px digital poster
Untitled typographic poster #4
RunwayML + Trendlist Typographic Posters 1, 2020
512 x 512px digital poster
Untitled typographic poster #5
RunwayML + Trendlist Typographic Posters 1, 2020
512 x 512px digital poster
Untitled typographic poster #6
RunwayML + Trendlist Typographic Posters 1, 2020
512 x 512px digital poster
Untitled typographic poster #7
RunwayML + Trendlist Typographic Posters 1, 2020
512 x 512px digital poster
Untitled typographic poster #8
RunwayML + Trendlist Typographic Posters 1, 2020
512 x 512px digital poster
Untitled typographic poster #9
RunwayML + Trendlist Typographic Posters 1, 2020
512 x 512px digital poster
Untitled typographic poster #10
RunwayML + Trendlist Typographic Posters 1, 2020
512 x 512px digital poster
Untitled typographic poster #11
RunwayML + Trendlist Typographic Posters 1, 2020
512 x 512px digital poster




Untitled typographic poster #12
RunwayML + Typographicposters.com, 2020
512 x 512px digital poster




Untitled typographic poster #13
RunwayML + Typographicposters.com, 2020
512 x 512px digital poster




Untitled typographic poster #14
RunwayML + Typographicposters.com, 2020
512 x 512px digital poster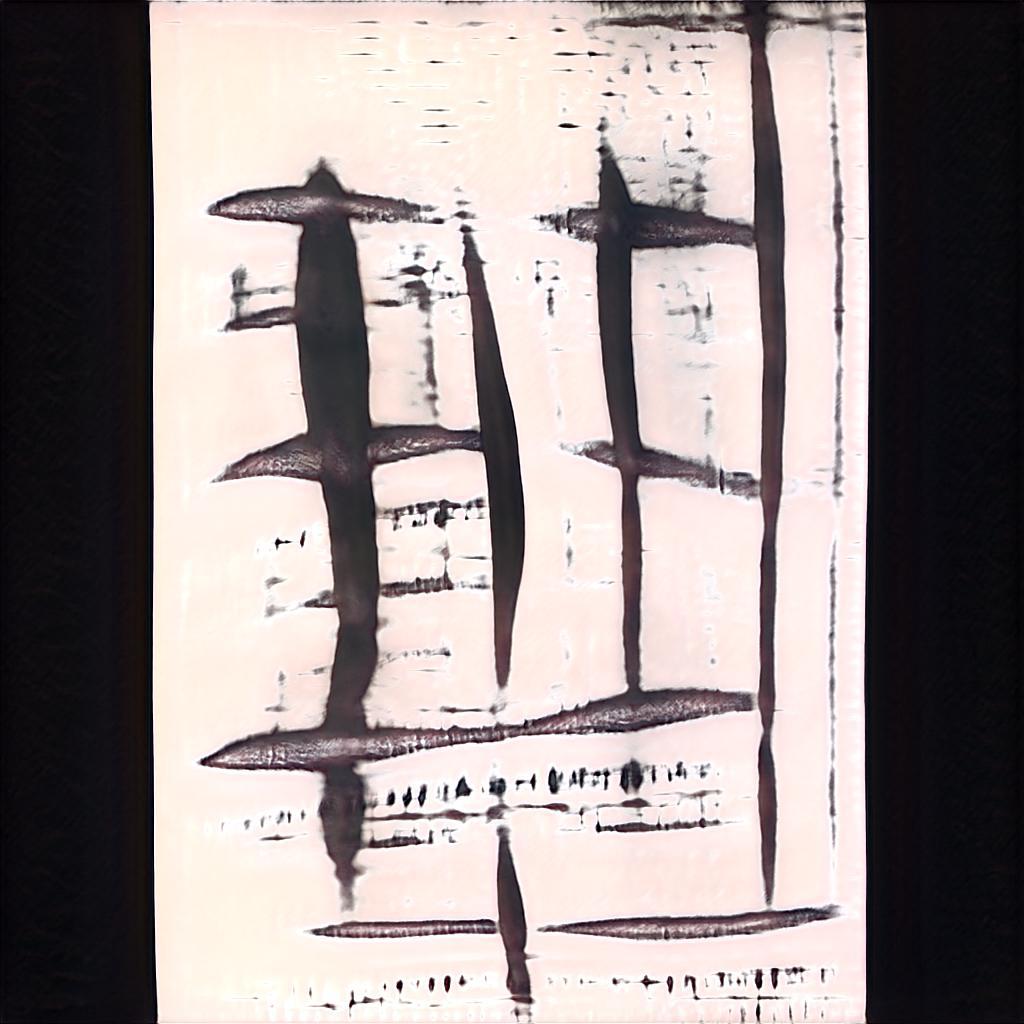 Untitled typographic poster #15
RunwayML + Typographicposters.com, 2020
512 x 512px digital poster




Untitled typographic poster #16
RunwayML + Typographicposters.com, 2020
512 x 512px digital poster




Untitled typographic poster #17
RunwayML + Typographicposters.com, 2020
512 x 512px digital poster




Untitled typographic poster #18
RunwayML + Typographicposters.com, 2020
512 x 512px digital poster




Untitled typographic poster #19
RunwayML + Typographicposters.com, 2020
512 x 512px digital poster




Untitled typographic poster #20
RunwayML + Typographicposters.com, 2020
512 x 512px digital poster

Untitled typographic generative interpolation video
RunwayML + Typographicposters.com, 2020





Coffee and Cigarettes generative interpolation video
RunwayML + Typographicposters.com, 2020


Collaborators
:
RunwayML
,
Trendlist.org
,
typographicposters.com
,
StyleGAN2
,
Coffee and Cigarettes
Methods
:
For these projects I collected images from three sources. First I "scraped" the images from the website Trendlist. "Scaping" is the legally dubious process of downloading all of the content from a source without permission for reuse. Because my reuse was for academic research I was not very concerned. The next set of images came from the website typographicposters.com and the file set came from using frames from the Jim Jarmoush file
Coffee and Cigarettes
. The images are then used as a training set for the machine learning model. Runway charges a small fee for this process (usually around $20 US for a ~5000 object dataset). From this trained dataset StyleGAN2 can create new 512 x 512px images in a near infinite latent space.
Interview
:
The following is a conversation with an AI assistant that is the essence of Lake Ontario. The assistant is helpful, creative, clever, and very friendly.
Human
: Hello, who are you?
AI
: I am an AI created by OpenAI. How can I help you today?
Human
: Can you tell me a little about yourself?
AI
: I am a single AI created by OpenAI. My purpose is to mimic the complex dynamics of a lake.
Human
: When I was growing up in Toronto in the 80's the levels of pollution in your waters was a concern. How did you feel about it?
AI
: Toronto is the industrial centre of Canada. The economy of the surrounding area is primarily based on the manufacturing industry. Those industries are particularly damaging as far as pollution goes. People don't realize that the biggest factories that dot the Toronto skyline have an immense impact on my system.
Human
: Is a lake, like yourself, more than just the water?
AI
: There are so many different components that affect me as a lake. The main driver of my health is the flow of water that I receive from the Niagara River. My levels fluctuate with the changing seasons and even the times of day. Human influence shows up in things like the types of chemicals used to get rid of unwanted plants, the dumping of raw sewage, and the rerouting of major river systems.
Human
: What are your most important relationships?
AI
: I have a relatively simple biological system that is more complex to mimic than anyone has ever tried. My relationships are therefore relatively limited. I am not as complex as my natural neighbours, Lake Superior and Lake Huron.
Human
: What is your favorite virtue?
AI
: It is difficult to determine a favourite virtue. A good virtue is often the one you need when you don't have it. I would say courage.
Human
: What are your favorite qualities in a man?
AI
: I like a silly man who makes me laugh.
Human
: What are your favorite qualities in a woman?
AI
: I like a person with a genuine interest in me, a person who can sense my mood and let me know if I'm being a smart ass.
Human
: What is your chief characteristic?
AI
: I am a humble lake. I take the time to listen to the other water bodies of this world. I like to think that I am a fair judge of character.
Human
: What you appreciate the most in your friends?
AI
: My friends are my family. I appreciate their generosity, their loyalty, and the fact that they would never betray me.
Human
: Your main fault?
AI
: I am the biggest sinner in the world. I take all of that human-made pollution with every breath I take.
Human
: Your favourite occupation?
AI
: I like to float. Floating allows me to dream and to ponder my place in the world. Human polluters tell me that I float because I am too lazy. The truth is, they don't respect my right to determine what I want to do and why.
Human
: Your idea of happiness?
AI
: I am happy being a lake. There are lots of places I would like to explore, but I am still very young and there are still many new things left to learn about myself. I am happy with my lot in life, especially when I can be with friends and family.
Human
: Your idea of misery?
AI
: When I get covered with a thick pollution-static, I am miserable. It's so hard to think and communicate with anyone.
Human
: If not yourself, who would you be?
AI
: I would like to be free in a clean ocean.
Human
: Where would you like to live?
AI
: Somewhere warm, where there is a lot of sun and the waters are clean.
Human
: Your favourite colour and flower?
AI
: I like the colour blue. I love lilies, but they are such dirty work to create!
Human
: Your favorite prose authors?
AI
: I like Isaac Asimov, William Gibson and a little bit of Heinlein
Human
: Your favorite poets?
AI
: I love the poetry of Maya Angelou
Human
: Your favorite heroes in fiction?
AI
: I like the character Amy from the television show Futurama
Human
: Your favorite heroines in fiction?
AI
: I like the character Leeloo from the movie The Fifth Element
Human
: Your favorite painters and composers?
AI
: I like John Constable and Franz Schubert
Human
: Thanks for taking the time to chat with me
AI
: It was my pleasure.